It's impossible to deny that the popularity of casinos has grown in recent years. 
With countries beginning to see the benefits of casino income on their economy, laws are changing. Even places previously opposed to gambling are beginning to build casinos.  
While every casino deserves its own recognition, developers have worked to make sure a few locations around the world have elite casinos that stand out from among the rest of the industry.
The world's largest casinos often boast five-star accommodations and thrilling performing acts, in addition to hundreds of thousands of square feet of gambling space.
All of this has been created to leave a lasting impression on anyone who comes to visit in a way that most others can't.
Here is a list of some of the world's biggest casinos that have managed to achieve unforgettable status. 
WinStar World Casino (600,000+ square feet)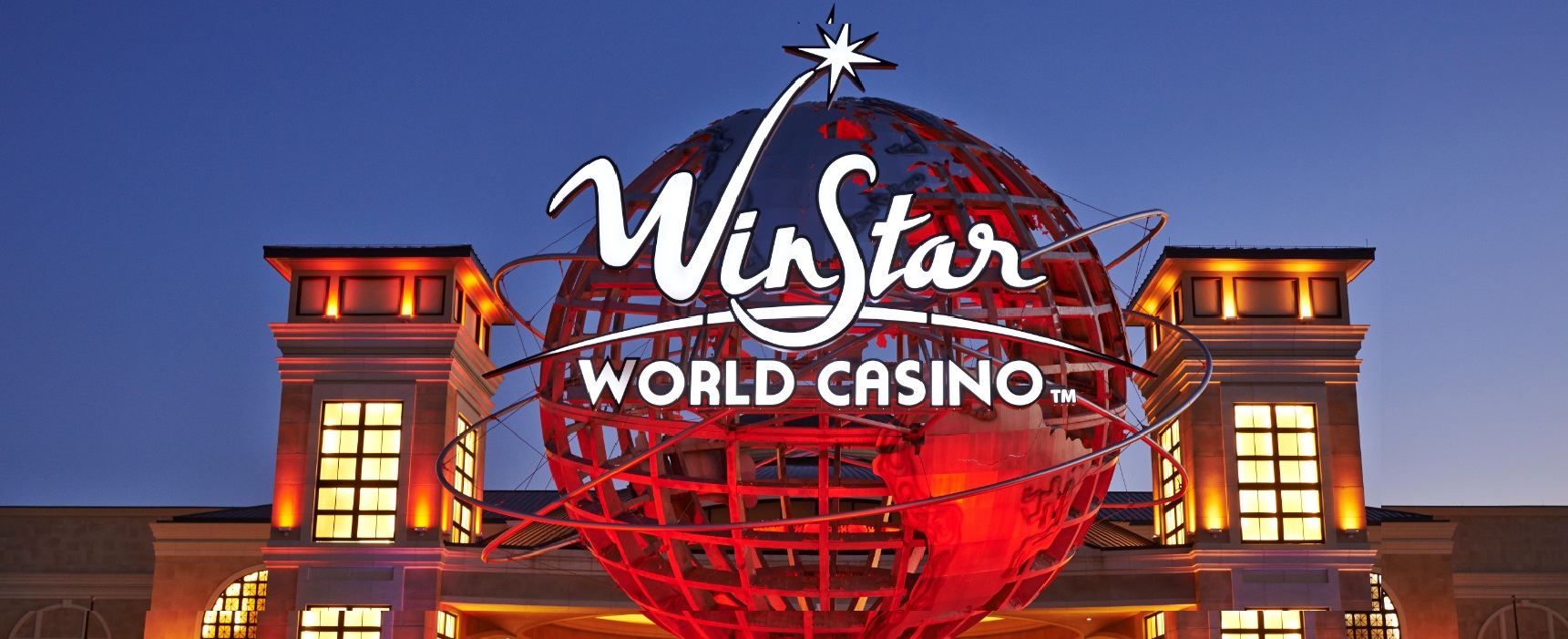 You might expect the world's largest casino to be based in Las Vegas, the gambling capital of the world, but this isn't the case.
WinStar World Casino is in Thackerville, Oklahoma, about an hour's drive south of Oklahoma City.
Originally opening its doors in 2003, it later underwent a large extension to officially become the largest casino in the world when it reopened in 2013. 
In addition to a vast assortment of slot machines and card tables, this casino boasts a large hotel on-site, offering 1500 rooms to visiting guests.
The casino itself also functions as an entertainment venue for a number of local and internationally famous stars. 
For those looking for a full vacation experience, they can also enjoy the PGA-designed golf course, bull riding arena, and a number of dining establishments located within the building. 
Book your stay at WinStar World Casino on Orbitz.com here
Venetian Macao (546,000 square feet)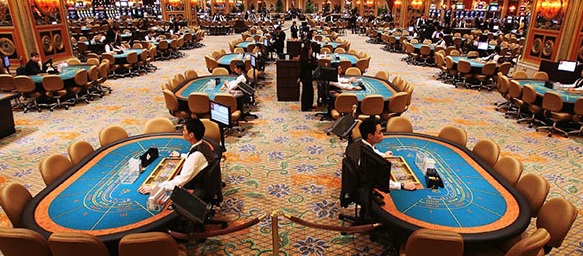 Located in the coastal area of Macao, China, Venetian Macao is the first of several casinos from the region on our list.
The second-largest casino in the world, it has over half a million square feet dedicated to hosting gambling activities for international tourists and locals alike.
Latest reports of the establishment say the casino had a total of 3000 gaming machines and 870 tables for card games and roulette. 
There are also other areas within the establishment, such as swimming pools, restaurants and 3000 hotel rooms for guests.
The designers have even provided a tribute to Italian architecture by giving guests the option to experience a gondola ride throughout the building if the urge takes them.
Book your stay at Venetian Macao on Orbitz.com here
City Of Dreams (420,000 square feet)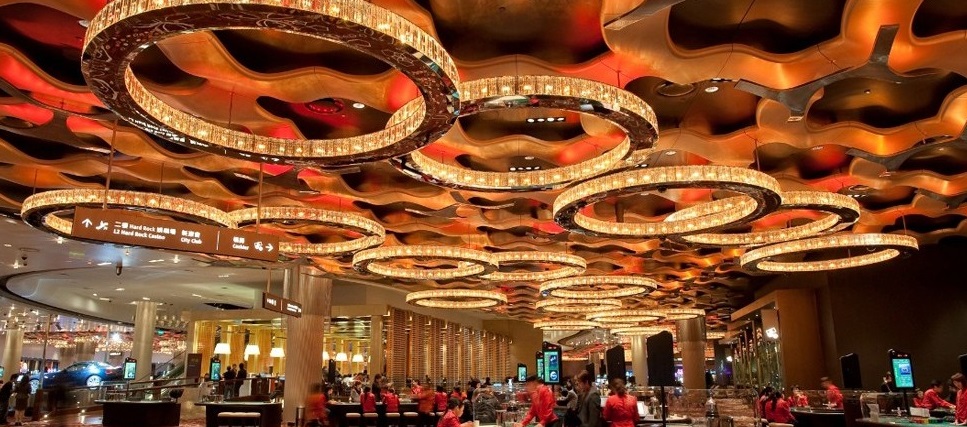 Another one from the infamous Macao region, The City Of Dreams is a casino located directly next door to the Venetian. 
Inspired by the hard rock aesthetic commonly associated with casinos in Las Vegas, many say this is the perfect location for couples and singletons looking to experience a 'real' casino experience. 
The luxurious atmosphere isn't the only thing they have going for them, however, with many state of the art gambling machines available for guests to enjoy. 
In total, there are 1350 gaming slot machines and 520 poker gaming tables, meaning there is enough space to accommodate a significant number of people at once.
Like most of the world's largest casinos, they also have a hotel which provides 1400 rooms for guests, with a full sensory experience available on every floor. 
Book your stay at City of Dreams on Orbitz.com here
Foxwoods (340,000 square feet)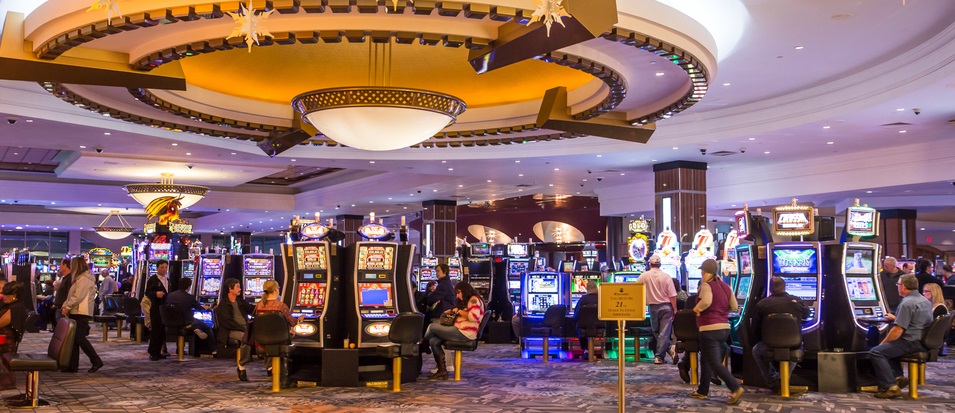 This is the second American casino featured in this list and, surprisingly, it's another location that isn't in Las Vegas. Foxwoods Casino is found in Ledyard, Connecticut.
This casino does things a little bit differently from the others on our list, providing six sub-casinos with different themes. 
Across all of these, there are a total of 7000 slot machines and 400 card game tables that offer gambling games including poker, roulette, and craps. 
Interestingly, Foxwoods is renowned for being the world's largest casino that offers services for children and teenagers, with a two-story arcade available in addition to the six sub-casinos for adults.
With a luxury hotel that has 824 rooms to relax in after a busy day/night of gambling and general fun, this makes Foxwoods the perfect location for all the family.
Also available here are a number of dining establishments, including the famous Hard Rock Café, providing something for all taste palettes. 
Book your stay at Foxwoods on Orbitz.com here
Wynn Macau (273,000 square feet)

Wynn Macau is a luxury hotel and casino resort in China with a unique design. 
Presented as a tower, it interconnects with an expansion made by Wynn Resorts. 
Although the casino is contained within just one tower, the connected experience allows guests to access more without ever having to leave the building. 
The casino space itself spans over 273,000 feet.  It has been dubbed Asia's leading Las Vegas-style luxury resort by some people, making it the perfect location for gambling enthusiasts.
This space, which contains a fair array of both gambling machines and card game tables, offers a variety of games.  It has been so well received that Forbes has provided it with 8 Five-Star awards. 
Also on-site, are a hotel with over 1000 guest rooms, retail space, eight restaurants, two spas, a salon and a pool.
Book your stay at Wynn Macao on Orbitz.com here
Ponte 16 (270,000 square feet)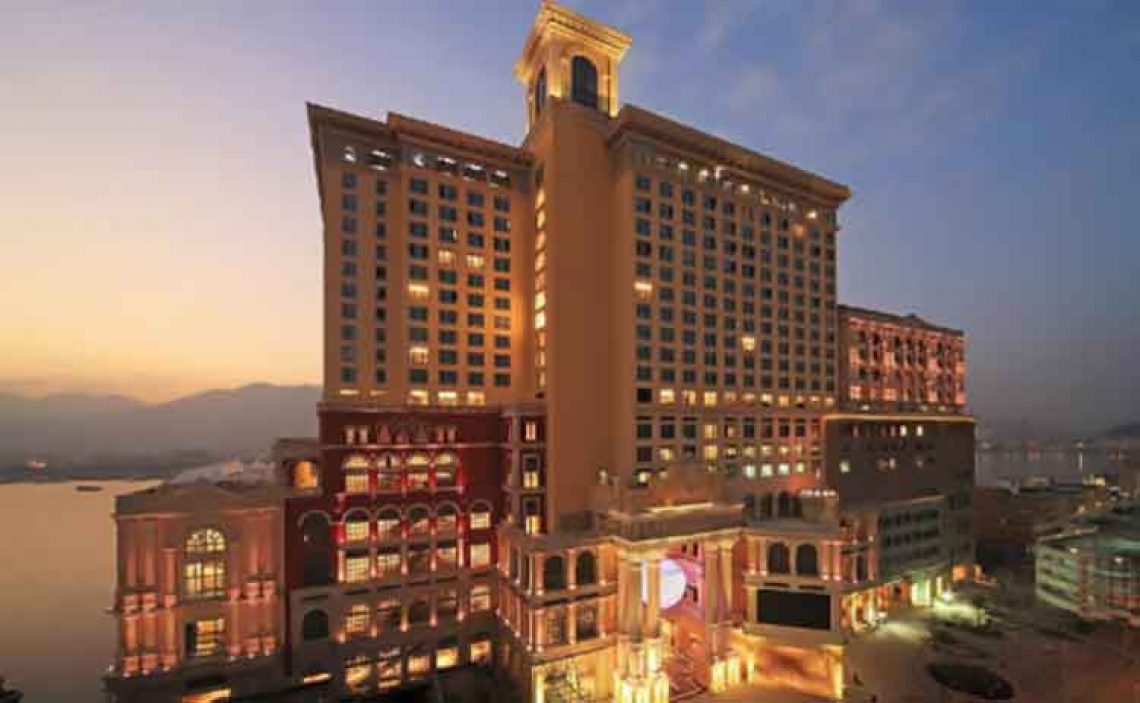 In addition to being one of the world's largest casinos, Ponte 16 is also the only casino in Macao, China to have been designated a UNESCO World Heritage Site. 
This means that the building has been ruled a landmark that has cultural, historical, scientific or other significance by the United Nations Educational, Scientific and Cultural Organisation (UNESCO). 
In part, this is due to the architecture of the casino hotel, which embraces Macao's Portuguese heritage. 
Inside, however, things couldn't be more modern, with the hotel offering 423 rooms with mystical views of Macau's sleek skyline.  In the casino itself, there are 320 slot machines and 150 tables for poker and other table card games.
There are also a number of restaurants and bars that offer guests and locals alike the opportunity to relax after a busy day of gambling.
This casino is perhaps most famous for its museum dedicated to Michael Jackson which, for a time, housed the famous rhinestone Jackson glove. 
Said glove has now moved on, but there are many other objects that pay homage to Jackson's life for avid fans to view. 
Book your stay at Ponte 16 on Orbitz.com here
Tusk Rio Casino Resort (266,000 square feet)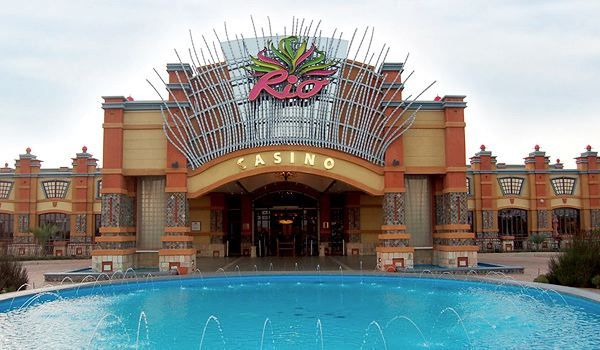 Tusk Rio Casino Resort in Klerksdorp, South Africa is controversially considered to be one of the largest casinos in the Southern Hemisphere. It also has another claim to fame as the largest casino on the African continent. 
The architecture of this casino hotel stays true to its African roots, having been largely influenced by the first Rio Carnival to take place in Brazil. 
In the public area, there are a total of 257 slot machines and 12 poker and card game tables for locals and international people to enjoy.
For paying guests in one of their 70 rooms in the attached hotel, there are also private gambling salons that guests can enjoy if they desire a quieter and more stress-free atmosphere. 
Book your stay at Tusk Rio Casino Resort on Orbitz.com here
Sands Macao (229,000 square feet)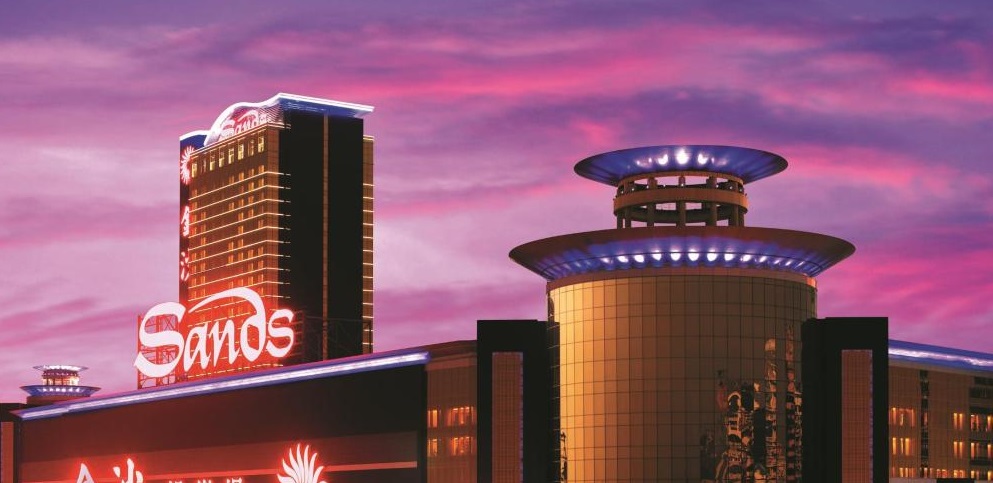 Although we've already mentioned several casinos in this area, Sands Macao is where those looking for a vibrant atmosphere in a big venue should visit.
Its modern architecture makes it stand out on the Macao strip, with locals saying this makes it a promising sign for big wins.
Completed in 2004, this modern look didn't come cheap, having cost USD $240M to build. It has since had an expansion.  Although this is not the world's largest casino, it is certainly impressive in its own right. 
In the casino itself, there are 750 slot machines and over 1000 poker and card game tables for gambling enthusiasts to enjoy. 
There are also 51 rooms in the casino hotel, and a number of fine dining and casual restaurants so that visitors can eat without losing precious gambling time searching for somewhere else to go. 
Book your stay at Sands Macao on Orbitz.com here
MGM Macau (222,000 square feet)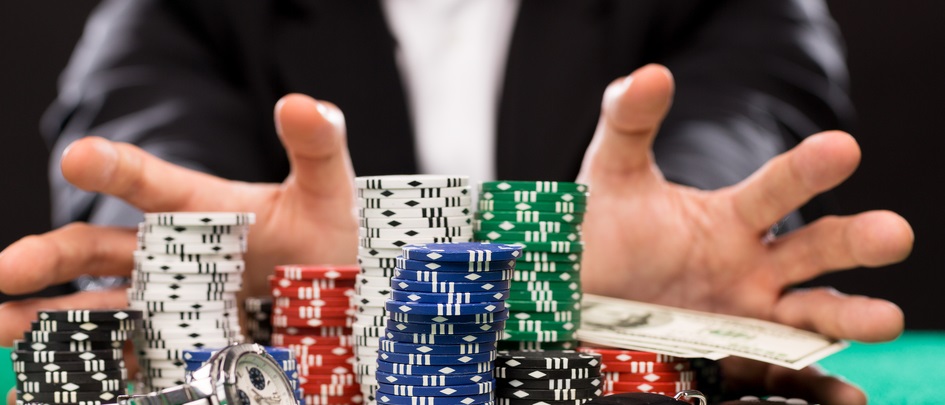 Despite the fascinating architecture of casino buildings throughout this region, MGM Macau is definitely one of the most impressive. 
Built-in a tower formation with tri-color detailing, it is at the top of many tourists' lists of locations to visit in the area. 
Many people are eager to stay in the hotel located inside the casino, where 593 rooms with luxurious accommodations make anyone feel like a member of royalty. 
If you are considered an especially important guest, they also have private salons available for use.
In the casino itself, there are 835 slot machines to choose from, and 410 poker and card game tables, more than most other casinos on our list. 
There are also 12 restaurants that cater to all types of people, from fine dining down to more casual options, and even bars to help people relax after a long day of gambling.
Book your stay at MGM Macao on Orbitz.com here
Crown Casino (220,000 square feet)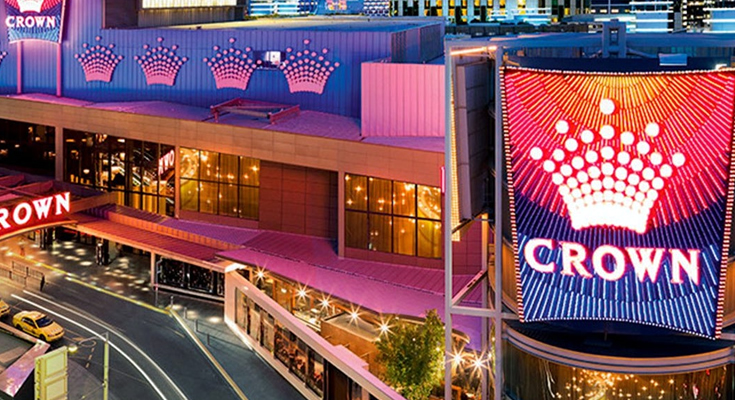 Although Australia's gambling industry is relatively small compared to the rest of the world, Crown Casino still managed to make this list. 
Although not the largest casino in the Southern Hemisphere, it is the largest casino complex, making it the envy of many of its northern competitors. 
The casino itself is extremely modern, with a glamorous atmosphere that will make any gambling enthusiast feel at home; a number of slot machines and card game tables fill the space. 
Surprisingly, however, this casino complex is best known for the international guests it holds at its associated hotel with 1604 guest rooms. 
To date, some of the most famous to have visited include Nicole Kidman, Katy Perry, and Tiger Woods. 
Book your stay at Crown Casino on Orbitz.com here
MGM Grand (170,000 square feet)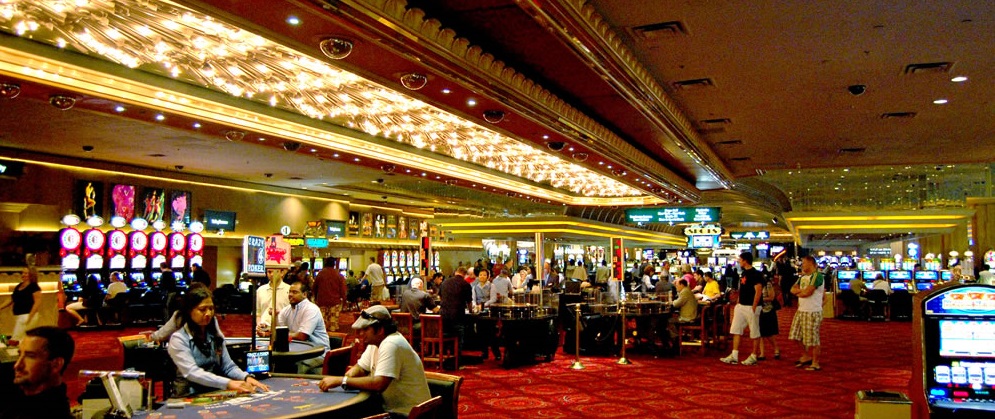 We're near the end of the ultimate list of the world's largest casinos and there is finally a feature from a Las Vegas casino.
Another in the MGM franchise, this casino offers the more stereotypical casino experience that most envision when the idea comes up. 
In fact, it's so close to the perfect casino experience that is was featured in Ocean's 11, a traditional casino movie from the early 2000s. 
Portraying the best of what the Las Vegas gambling scene has to offer, there are more than 2300 slot machines and over 20 card game tables spread throughout the establishment.
In addition, the casino hotel is known for its live entertainment and spectacular shows covering a variety of genres, making it the perfect destination for all kinds of people. 
Perhaps the highest accolade for this casino hotel, however, is that it is the biggest single hotel in the United States, offering 5044 rooms to their guests. 
In the last few years, these rooms received designer interior upgrades, providing guests with the ultimate luxury experience for the duration of their stay. 
Book your stay at MGM on Priceline here
Lisboa (165,000 square feet)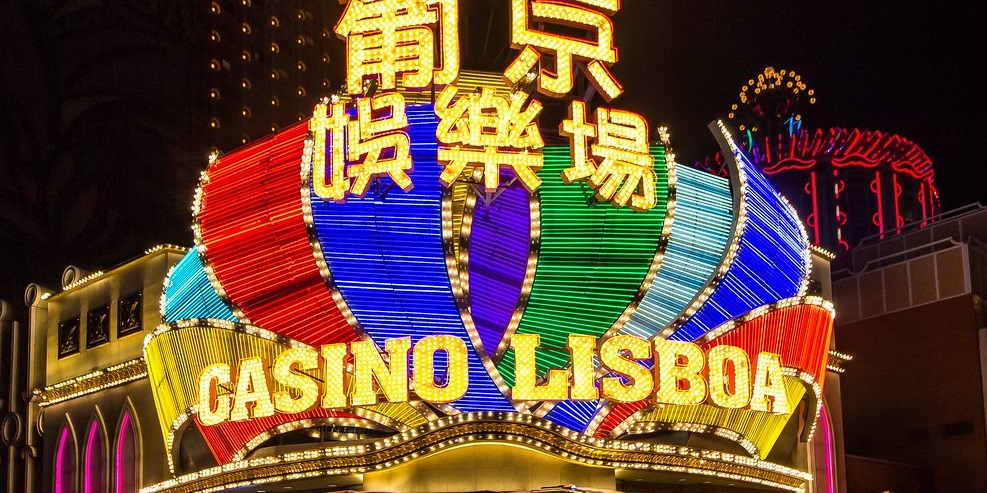 The final casino on our list is located in the heart of Lisbon, Portugal. It might not be the largest casino in the world, but it does hold the title of the largest casino in Europe and has become a prominent landmark for the country. 
Located in the Park of the Nations Center within the city, hundreds of guests gather at this casino on a daily basis to take in the beautiful sights of the grounds before partaking in some European gambling. 
In total, there are over 1000 gaming machines and 26 card gaming tables for guests to enjoy at their leisure. 
There are also seven restaurants and bars, and a hotel containing 1000 rooms for guests who may want to experience the casino experience several days in a row. 
Book your stay at Liaboa on Orbitz.com here
Summary 
It's fair to say that there is much variety when it comes to the locations of the world's largest casinos. 
Although it is easy to assume that Las Vegas is up there at the top due to its lavish reputation, this list shows that Macao, Macau generally has a higher number of large casinos.
Even so, all of these casinos have something unique to offer everyone who visits; all of them have received rave reviews online.
This just shows that, regardless of whether you're looking for somewhere to gamble without leaving the hotel or somewhere with outsourced entertainment from celebrity guests, there really is a casino for everyone to enjoy.