Unless you are familiar with the gambling industry, you may not know much about Macau. Previously a Portuguese colony, this vibrant city has transformed over recent years to become the gambling capital of the world.
By itself, Macau generated more revenue from gambling than the entire state of Nevada in 2010. It's far from being the Las Vegas of China; it's the biggest of them all.
Macau has grown thanks to China's massive globalization, with foreign multinational casinos at the heart of it. The booming economy has seen millions of people travel to this stunning environment, both inland and abroad, and try their luck at the tables.
Needless to say, the money spent here is unlike anything else on the planet.
China has ruled over Macau since 1999, but while gambling is illegal under Chinese law, Macau has been governed as a Special
Administrative Region of the country. This means that it follows different laws, making it the only part of Greater China, including Hong Kong, where gambling is legal.
Before returning to Chinese rule, Macau was rife with organised crime competing for access to the casinos' VIP rooms. It's these same rooms that are now one of the biggest contributors to the rise of Macau.
They are home to the biggest games in the world with the highest stakes, making the experience here unlike any other gambling destination on Earth.
For this reason, the casinos of Macau are keen on attracting high rollers.
They make most of their money from private rooms and providing special privileges to wealthy gamblers, rather than profiting from the hordes. In fact, it was reported in 2013 that 66% of all revenue generated by the casinos was made from high rollers.
The freedoms enjoyed by Macau, along with being the home of high stakes gambling, make it the gambling capital of the world.
The Origin Of Macau's Success
Today, Macau's gambling scene is at least four times the size of Las Vegas. In June 2019, Reuters reported that in the first 5 months of the year alone, the 33 casinos in Macau generated more than $3 billion – and this is seen as a relatively low figure compared to previous years.
But Macau has not become a huge success overnight.
The work done to achieve today's great heights can be traced back to the 1840s, where Portuguese administrators began looking for new ways to make money to stop the outflux of people moving to Hong Kong.
Residents took up a lot of manual jobs and trades, ranging from labouring in mines and plantations to regulating game houses. A poet named Camilo Pessanha, described Macau as "a material and moral rubbish heap".
But to those living in China and Hong Kong, Macau was appealing for a simple reason: it was close enough to get to without causing an issue, but far away enough to do things that weren't considered moral.
In the 1920s, gambling started to grow thanks to a new monopoly. 40 years later, the industry boomed again after the government granted Stanley Ho rights to Macau franchise, beating off competition from local barons.
Ho maintained a grip on the gambling industry for years; at one point, he had around 33% ownership of the entire Macau gambling scene, including the Lisboa property.
While this may have the feel of a seedy establishment, its neighbor across the way, the Grand Lisboa, is the complete opposite. It dominates the Macau skyline and indignifies everything great about modern Macau.
The Grand Lisboa is inspired by Macau's symbol of a lotus, complete with a flashing globe made up of less than 1.2 million LEDs.
Visitors can experience stunning artwork, temples and peaks of generations gone by, features made from solid gold and many more items that please the eye and, ultimately, show its wealth.
When players enter the gambling floor of the Grand Lisboa, they are greeted with the flashing lights synonymous with slots and the gambling lifestyle. Even those in the toilets are made from crystal.
The Chinese Communist Party are responsible for these vast changes in fortunes. Before the takeover, powerful people played war over control of the casinos.
According to reports at the time, there were bombings and complete carnage. Considering there were less than one million inhabitants at the time, a lot of damage was done.
Once Beijing got involved and marched the military into Macau, the criminals were arrested and then jailed. Since then, gambling Macau has flourished under the communist regime despite it still being illegal in mainland China and Hong Kong
The Macau Experience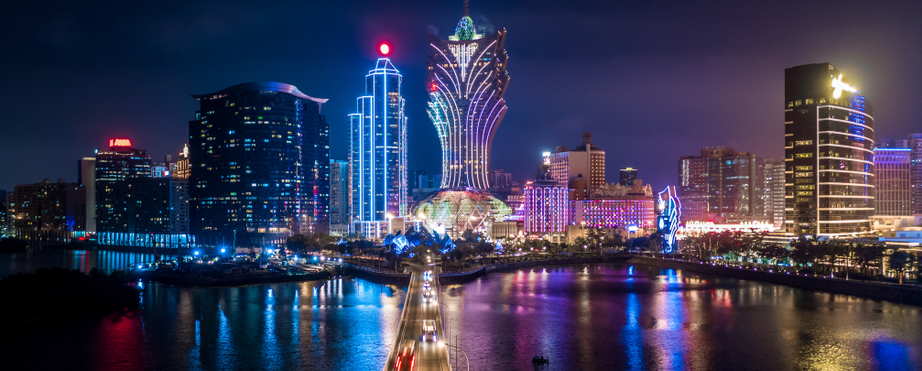 During the Chinese New Year, more than 100,000 people visit the Venetian Macau, the biggest casino in the world that boasts 550,000 square worth of gaming space.
For reference, its namesake, the Venetian in Las Vegas has a casino floor of 120,000 square feet, making it the second-largest casino in the world. This just shows how big the Venetian Macau really is.
But while the sizes are different, the Venetian Macau is a complete replica of the Las Vegas property, from the gondolas to the tiniest details. Visitors can pose in St Mark's Square and take in all the glorious entertainment on offer.
But even so, Macau tailors the gambling experience towards a more homegrown market rather than giving into Western culture.
For example, they have brought in specialist feng shui consultants to create the perfect layout, while players can enjoy complimentary tea instead of beer and alcohol.
The game of choice is not poker, nor is it blackjack or roulette. In Macau, baccarat takes centre stage. In 2008, baccarat was responsible for 85% of all revenues in Macau's casinos.
But above all else, the biggest difference between Macau and Las Vegas is the people. Players check their hold cards with intensity, unlike Las Vegas where you'll find a lot of laid back peeking.
While the rustling of chips can be heard from every corner of the properties, it's more likely to be interrupted by a sudden thud of a table rather than a cheer or groan at a bad beat. Gambling in Macau is serious stuff.
This goes a long way to understanding why a culture built on saving is so invested in gambling. While Westerners see gambling as leisure, Chinese players view it as a financial opportunity.
In their eyes, they are taking risks to help them make more money. In an environment surrounded by wealth, this makes a lot of sense.
The Chinese are also very superstitious. They believe that they have good luck that can translate to fortunate wins on their behalf at the tables.
Combine this with their notion that they can control the outcome of a game and the result is something that looks like an investment.
The casino floor sees average people gambling hundreds of dollars in just a couple of hands.
But the main action can be found in the VIP rooms, which, as has already been mentioned a few times already, where the high rollers live.
Casinos offer luxury perks in return for gambling at their establishment, such as penthouse suites fitted with state-of-the-art Jacuzzis and private jet rides into the region.
Casinos of Macau
There are 38 casinos in Macau; 23 can be found on the Macau Peninsula and the other 10 on Taipa Island.
Each property has a wide range of casino games to play, with baccarat, blackjack, roulette, poker and slots available, as well as Chinese games like fan tan and sic bo.
Here's a list of all the casinos in Macau:
Name
Opening Hours
Size
Special Features
Casino Lisboa
24 hours
107 slots and 146 table games (190,000 square feet) 
Hotel with 1,000 rooms and 6 restaurants 
Casa Real Casino
24 hours
123 slots and 53 table games (36,000 square feet) 
Hotel with 381 rooms and 2 restaurants 
Grandview Casino
24 hours
51 table games
Hotel with 407 rooms and 2 restaurants 
Casino Macau Palace
24 hours
51 slots and 12 table games (11,120 square feet) 
None
Altira Macau
24 hours
550 slots and 220 table games 
Hotel with 216 VIP rooms 
Jai Alai Casino
24 hours
208 slots and 61+ table games, 4 VIP rooms (67,075 square feet) 
None
Kam Pek Casino
24 hours
71 slots and 24 table games; 4 VIP rooms (34,320 square feet) 
None
Kingsway Hotel & Casino
12:00 – 04:00
20 slots and 8 table games (11,755 square feet) 
Hotel with 410 rooms 
Grand Lapa Hotel 
12:00 – 04:00 
59 slots and 11 table games (12,140 square feet) 
Hotel with 437 rooms and 6 restaurants 
Mocha Clubs 
24 hours
1,000 slots (number of tables unknown) 
None
New Century Hotel & Casino 
24 hours 
19 table games 
Hotel with 554 rooms 
The Legend Club 
24 hours 
108 slots and 12 table games; 1 VIP room (15,000 square feet) 
None
Sands Macao
24 hours
405 slots and 270 gaming tables (165,000 square feet) 
51 suite VIP hotel 
Golden Dragon Casino 
24 hours
137 slots, 123 gaming machines and 85 gaming tables, 15 VIP rooms 
483 deluxe guest rooms including 84 harbour view rooms and 45 signature suites 
Greek Mythology Casino 
24 hours 
228 tables (to be upgraded to 500), 100 slot machines (160,000 square feet) 
554 rooms at the New Century Hotel 
MGM Macau
24 hours
345 gaming tables and 1035 slot machines 
600-room hotel 
Wynn Macau
24 hours
375 slot machines and 212 gaming tables (246,000 square feet) 
Integrated resort with 600 rooms and restaurants 
The Venetian Macau
24 hours
3,400 slot machines and 800 gaming tables (550,000 square feet of casino space) 
Integrated resort with 3,000 suites, convention and retail space 
Babylon Casino – Fisherman's Wharf 
11:00 – 23:00
Casino Crystal Palace at Hotel Lisboa 
36 slots (14,100 square feet) 
Makccarat tables 
Diamond Casino at Holiday Inn 
6 + 1 VIP Room, 32 slot machines (6,900 square feet) 
Emperor Palace Casino 
64 gaming table on 3 floors of casino concourse & 8 VIP Halls, 365 slot machines 
Fortuna Casino 
35 gaming tables 
Galaxy Rio Casino 
80 tables, 150 slots, 4 VIP rooms 
450 rooms, 65 suites 
Galaxy Starworld 
24 hours
300 tables, 371 slots 
StarWorld Hotel 
Galaxy Waldo Hotel and Casino 
24 hours
63 tables, 8 VIP rooms, 100 slots 
161 rooms 
Pharaoh's Palace Casino 
24 hours
109 tables 5 VIP rooms, 383 slots (9,000 sq ft) 
3 Presidential suites, 448 Rooms and Suites at The Landmark 
Ponte 16
24 hours
150 tables, 5 VIP halls and 20 rooms 
Crown Casino, Taipa – u/c 
220 (80 VIP), 183,000 sq ft (17,000 m2) gaming space 500 slots 
MJC Casino, Taipa 
19 tables, 2 VIP rooms, 15,800 square feet (1,470 m2) 
3 Deluxe Rooms and 22 Junior Suites and 1 Presidential Suite and 352 Standard Rooms and 26 Suites 
City of Dreams
24 hours
420,000 square foot (39,000 m2) gaming floor containing 550 gaming tables and 1,500 machines; 85,000 square feet (7,900 m2) of retail space; Theatre of Dreams (1,700 seaters) 
366-room Hard Rock Hotel and 290 suites Crown Towers Hotel, Cotai. Grand Hyatt Macau (971 rooms).
Galaxy Cotai Mega Resort, Cotai 
450 tables, 1000 slot 
2000 hotel rooms, 50 restaurants, an artificial beach, a wave pool 
Galaxy Grand Waldo, Cotai 
168 tables, 25 machines, 350 slots (120,000 square feet) 
Casino Oceanus 
32,000 m2 on 3 floors containing 269 gaming tables and 569 machines
32,000 m2 on 3 floors containing 269 gaming tables and 569 machines 
International Investment In Macau
Casinos make a lot of money for the Chinese government. In 2001, 40% of all tax collected from Macau was generated from gambling-related income. In 2011, this grew to 81% of all tax collected.
The reason behind this massive change was due to foreign firms being allowed to invest in Chinese properties and compete for casino licenses.
Before this investment, the only company with a license to operate casinos was Sociedade de Turismo e Diversões de Macau, SA (STDM).
For 40 years, this was monopolised but in 2002, several multinational firms and joint ventures were granted casino licenses.
Companies came from all over the world, including the US with several Las Vegas properties taking an interest, such as MGM, Galaxy, Las Vegas Sands and Wynn Resorts.
These corporations made some heavy investments into brand new casino resorts in Macau, with luxury being the major factor.
With all this construction going on, there was a need for land to complete the projects. Macau was originally made up of only a small mainland peninsula and a couple of islands, meaning that land reclamation projects were needed.
By 2010, Macau had increased from 11.6 square kilometers to 29.7 square kilometers. The new land that connects the islands of Taipa and Coloane is home to these big casino resorts.
Macau Casino Revenue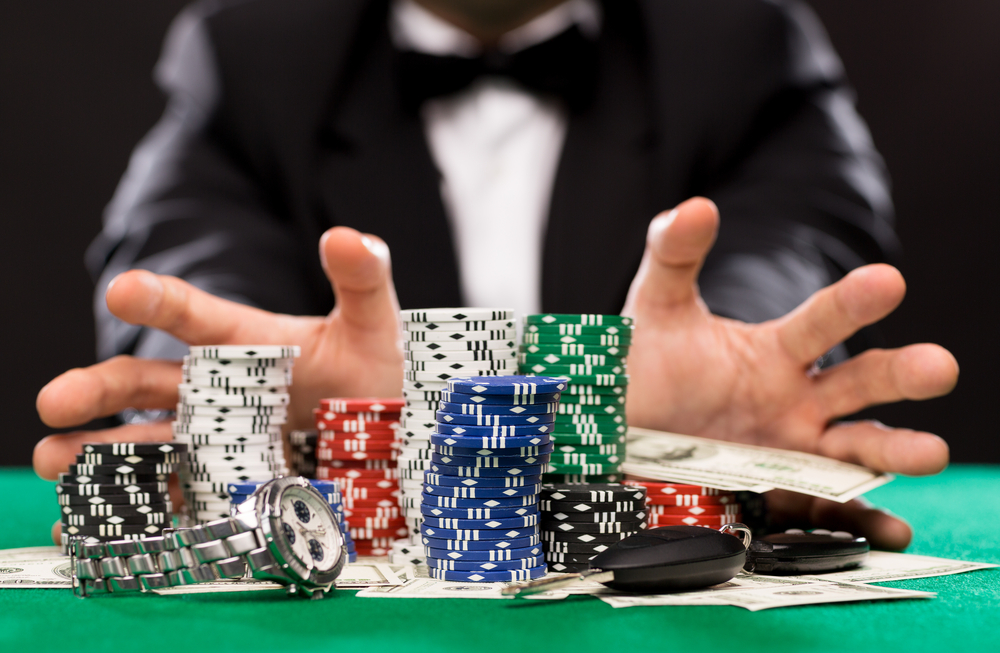 The new casinos have meant that locals have plenty of opportunities for work. This has had a great impact on
Macau's economy but the main benefactor is due to the number of tourists and the huge tax income.
With gambling in Macau increasing more and more every year, the amount of tax generated from gambling revenues peaked in 2014 before Xi Jinping, the president of China, declared a campaign on anti-corruption.
The Chinese government sees Macau's VIP rooms as one of the biggest leaks of capital from the local economy.
While there are a lot of perks offered to a high roller, casinos make a lot of their money from gamblers depositing their cash in mainland China, before junket firms advance their money to the casinos' VIP rooms.
Players can often be gambling with huge lines of credit too, meaning that a lot of money in the casinos by VIPs was seen as generated through corrupt practices on the mainland.
In 2014, gaming tax revenue provided 84% of the Macau government's total revenue was generated through taxes.
In 2017, this decreased to 79%. While the percentages don't seem like a big drop, the numbers tell a different story,
in 2014, the taxes generated $20.1 billion and this dropped to $15.7 billion in 2017. This marks a $4.4 billion drop in revenue.
The reason for this was because several Chinese elites abstained from using Macau's casinos during President Xi's anti-corruption campaign.
Since then, Macau is less reliant on VIPs to make its money and has moved towards the general public. This has stabilised casino revenue.
Beijing is also trying to make Macau a hub for other forms of entertainment too, such as holding events and exhibitions to attract new customers.
Macau now connects directly to Hong Kong, meaning that people can find it easier to travel to the region. However, because of diversification, Macau must now compete with international casinos for business.
While Xi's anti-corruption campaign has done a lot of good, it has also encouraged some Chinese gamblers to travel across Asia, such as Singapore and the Philippines.
Regardless, Macau remains the gambling capital of the world. It greatly contributes to the local economy and increasing the wealth of its residents.
Macau's success continues to be built upon its ability to attract local players and gamblers all over the world seeking a vacation or to play some of the biggest games.